Greetings Humans!
Even though I have been back in the café for a while, I haven't taken the time to write to you yet. I apologise. At first, it was being in quarantine for ringworm (thank goodness that's over!). But, really, I have no excuse, so please forgive me. I did make some blogs but Cait Sith told me that was not enough because some people only use email. Then she made a comment about my age that I will not repeat. She is not that much older than me, so it was not fair anyway.
Next week is the school holidays (September 29-October 13) so we will be open on Monday and Tuesday from 10am to 4pm. It is a good idea to make bookings in these weeks to secure space. We do welcome children but ask that their adults are attentive and active in helping them follow the rules.  Now that it is spring, I am shedding my glorious, long coat. Although I don't like brushing much, I know I need it. We are glad that the cold, dark winter is over so we can lie in the sun and have more people come to pet and play with us. Winter has been dark and lonely for the café cats. We all hope that there will be no more days without customers. I only hope that everyone will remember their manners and wait until I give my permission before they touch me.  Richelle said that's the rule for humans too, but people forget when they see me because I am so gorgeous. That's not my fault.
We have had so many more adoptions it would be too long for me to tell. Just let me say that we are reaching 75 successful graduations.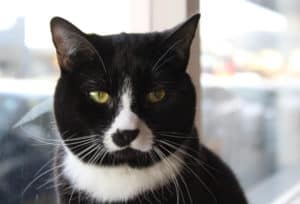 One bitter-sweet note: Jess will be retiring this Sunday September 29. She has been a very important part of our marketing department both by modeling the collars from Japan (I like my NZ Rainbow Warrior one better, but that's not important) and by taking the window perch to attract customers walking by.  She let us know she wanted to have her own home, so a family was found for her who have no other cats. Of course, there will be a two-week trial to make sure it is a good fit for all, but we are confident that everyone will be happy.
Something not many people may realise is that we not only have super soft, playful cats, we also serve delicious sushi. The recipe is handed down from Ken's grandfather who started the family restaurant in Dotombori, the centre of Osaka, Japan. There are Vegan options, and most are gluten free. I have not been able to try any yet because the customers never leave a scrap behind, but Chenzo has stolen some and he says it is great.
Hope to see you soon!
Inky
Professor of Etiquette and Drama