When:
April 10, 2021 @ 6:00 pm – 8:00 pm
2021-04-10T18:00:00+12:00
2021-04-10T20:00:00+12:00
Where:
Neko Ngeru Cat Adoption Cafe
291 Jackson St
Petone
Lower Hutt 5012 ニュージーランド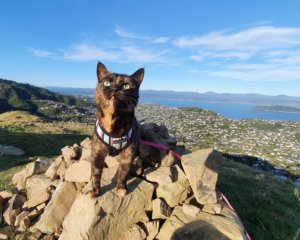 Adventure Cats!
Have you ever wanted to take your cat on an adventure? Or maybe your cat is eager to go outside and explore, but you want to do it safely? Then this workshop is for you! Come along to learn how to:
-Keep your cat safe while adventuring
-Teach your cat to be happy wearing a harness and leash
-Get your cat to ride in a backpack
-Teach a solid recall and why it's important.
-Boost your cat's confidence! Turn a scaredy cat into an adventure buddy.
*Because we have cats in residence at the cafe, please do not bring your cat to the workshop. These workshops are designed to teach the humans, who can then go home and teach their cats.