Greetings Humans,
We had a nice and busy time around the school holiday and warm weather. We appreciate all the people who come to the café, but we especially love those who come back. Now that the season is turning, we will need the support of our regular friends to keep the café full of people for us to play with. I hope I didn't offend any of you with my grouchy tone last time. After my last meowsletter, Tiger Lily told me I should lighten up and not take myself so seriously. So, this time, I won't talk about myself at all.  I haven't mentioned all the adoptions and new cats at the café recently, so I had better do that now.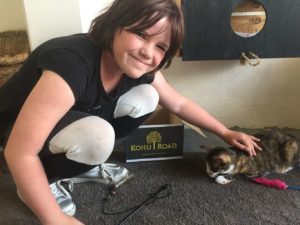 We were happy to see Olive settle in to her new home with her very own human girl. We could see they already had a special bond before she left us, and we are glad to hear from the humans that that relationship is still growing strong.
Monkey and Spot went to their new home together and are getting along really well. They adjusted to the space really quickly and even went outside. We heard that at first Spot didn't know how to climb down trees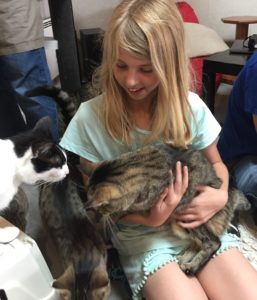 . He should have practiced that at the café. I guess he didn't have the advantage of Cait Sith's training to learn how to do that as I did. But, nothing about me…
Capuchin changed her name to Lilly since that's easier for her human girl to spell. She is settled in and eating well. Tamarin loves the views from her window seats in her new home and now is comfortably venturing up and down the trees outside. Both of them love being the queen of the house.
We had mixed feelings when Oscar returned to us after his adoption didn't work out. We were really glad that he got the chance to try again withus. It was brave of his humans to bring him back. He told us his people tried to help him feel comfortable, but they didn't understand that letting him roam in a big space was confusing and overwhelming for him. He just didn't feel safe or connected to them. When he escaped the house and met some mean cats outside, it just put him back to the bad old days in the dump and he couldn't trust any humans. He was really glad to get back to the café where he
knew the people and most of the cats. Now he even lets strangers pet him pretty quickly. He is a bit too relaxed in my opinion since he is getting into trouble every meal time by jumping into the food cabinet to scarf down as much as he can before the bowls even get filled and stealing food from others (even me!) when he finishes before we do. That boy sure does love his food. He needs a family interested in adopting him who understands how to treat former 'ferals'.
Jet has come out to cuddle with his new family after two weeks of hiding. They found out he is most active at night. I could have told them that, but nobody asked me!
Salem loves her new family and boyfriend, Miko, even though he is taking a while to warm up to her. They race around the house at night.  She started exploring and talking to her new people right away.
Crystal is relaxing with her new family, playing, cuddling on the couch and sleeping on their beds.  We are so happy for her.
Oty (Othias) is still here becoming more confident with people by the day. He is not like his brother except in looks. He is much more laid back and reserved although he gets along well with all the other cats. His favourite thing seems to be sunbathing but he is not selfish and will share the space with anyone else who wants to cuddle.
  He has people who want him to join their family and he will go to them for a trial as soon as we have new cats in the café to replace him.
Rachel and Ruby are in the café. They have shown their different temperaments. Rachel jumps up on Ken or Richelle's shoulder during vacuuming or washing litter trays. I also like the washing but cannot understand how she can tolerate the vacuum. Ruby is a super cuddler and mostly naps with Conner (or others) on the beanbag chair.  Both of them have people interested in adopting them.
A few months ago, a customer told us about a mother and kitten that needed help in Naenae. Ken got the help of UHARS and the feeder to try trapping them. Finally, in February we got some good results. The mother, Tiny, who had been missing for a few weeks, got into the trap. Surprise! She was heavily pregnant and gave birth (probably prematurely) on February 21stto four kittens. Lucky for her, she was already with our experienced fosterer who has helped her be an excellent mother. Tiny is still skinny despite getting fed as much as she can eat five times a day with Royal Canin mother and baby kibble plus high calorie wet food. Everything is going into the kittens, who are now gaining about 100g a week because of the supplemental feedings our fosterer is giving them by bottle.  Soon they will get kitten mousse and Tiny may get a break from nursing them.
A few days after Tiny was rescued, her previous kitten finally stayed in the trap. She was taken to UHARS and named Kenshi in Ken's honour. She is waiting for her spay operation then she will come to live at the Okada's. They will get to have the experience of socializing a cat and I will be telling you how it is going in future meowsletters.
The food, vaccinations and operations will all have to be paid for. So, we accepted donations for the naming rights for the kittens at $50 each. It went really fast and we had four donors almost before we knew it. The names are Sparrow, for the dark tabby boy; Tigger, for the light tabby boy; Cosmo, for the tuxedo boy; and Kaha for the tabby girl. Those who've named a kitten will also be allowed to come see it once in the café for no extra charge. If you want to donate for their care, please contact Ken or Richelle or just put something in the collection boxes beside the till.
It will be about half a year before these kittens are ready to come to the café, though. So, I had better mention the new cats that are in quarantine getting ready for the café. There are six new cats from Feral Nation: Pango, Po, Kuro, and Yoru plus Daisy and Domino. Richelle got to name all but Daisy and she told me she was inspired by their colours like my name was. Pango and Kuro are pure black boys, so their names mean black in Te Reo Maori and Japanese. Po and Yoru have bits of white like stars on their chests, so their names mean night in the same languages. Domino is also black with noticeable white dot on his chest. Daisy is black and white like a Holstein-Friesian cow.
The new cats from KittyCat Rehoming Wairarapa are named Hermes and Athena. Hermes is a long haired black and white boy while Athena is a tortie girl. They are coming to the café Wednesday the 20th.
 Daisy and Domino should come on Friday the 22nd. Beth, a lovely mama cat from FeralNation who is glad to be kitten free, is probably coming on Sunday the 24th. Po, Pango, Yoru and Kuro are waiting to be totally cleared of ringworm. They have not had any symptoms for a week now. So, once we are sure they are not contagious, we will introduce them to the café.
We also got new furniture: beanbag chairs! They let people get closer to us and the layout is a lot more open for us to play in. The humans got new food: sushi and onigiri which is tempting for cats like Chenzo and Rachel to try and steal.
Well, Tiger Lily is telling me to finish so I can send it before all these things happen. She can be annoyingly right, that girl!