Home Cats
These cats stay at the cafe and teach the new cats how to behave
Cait Sith Sapphire
Breed: Domestic Medium Hair (Tuxedo)
DOB: 24 January 2017
Gender: Female
Personality: Friendly, cuddly, curious and playful 
Size: 2.5kg
My Story
The mum of Sapphire and her three siblings could not give them milk because of malnutrition, so a rescuer of Wairarapa Community Kittens fed them every three hours at the beginning of their life. Thanks to their rescuer, Angela, they grew strong and two brothers were adopted earlier.
Two remaining sisters were available for us to pick at Angela's home. Smudge is a tabby and Sapphire is a tuxedo. Both of them have medium length hair with fluffy tails. It was a difficult decision but Sapphire looks just like our company logo and has an injured eye. This changed the color of Sapphire's eye and made her cornea cloudy. We thought this could cost some vet bills later in her life and that made her less adoptable. That's why we chose Sapphire.
We named her Cait Sith Sapphire Okada after our company's name. ("Cait Sith" was a legendary cat fairly in Ireland with a black and white coat.) Cait Sith Sapphire is so friendly and cuddly to any visitors in our house and brave to explore around house or our new premises on her leash. So we think she would be a great worker cat in our cafe! We would take her to the cafe and bring her home with us daily. Come and see Cait Sith Sapphire at Neko Ngeru Cat Adoption Cafe!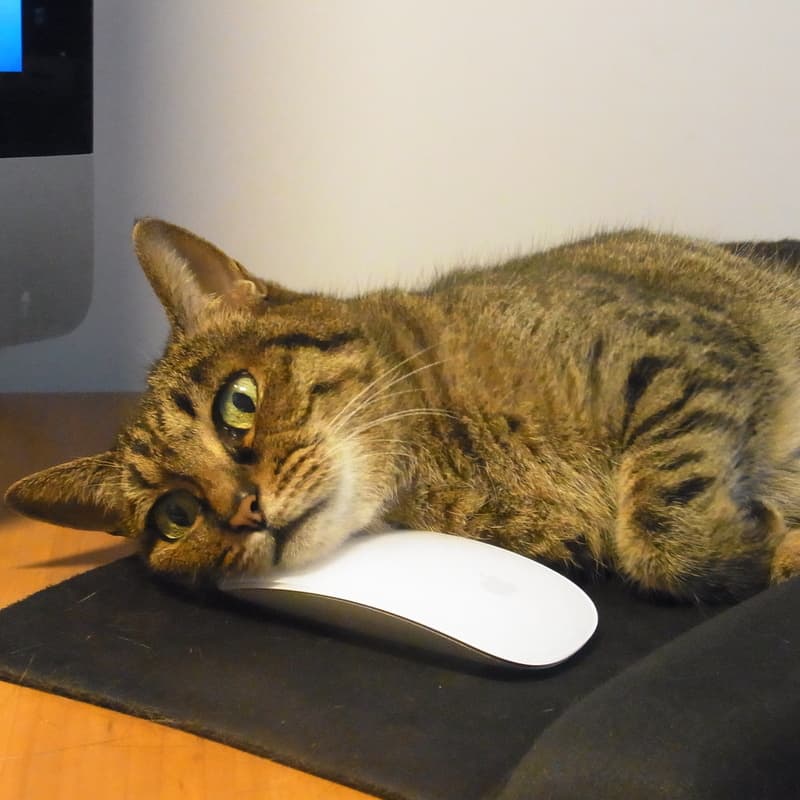 Mi Two (our honorable cat living in Japan)
Breed: Domestic Short Hair (Tabby)
DOB: sometime in 1996
Gender: Female
Personality: Old and grumpy
Size: 1.0kg
My Story
Mi Two is Ken's first cat, rescued from the street in Japan. She lived with Ken and Richelle in 4 different countries (Kuwait, the USA, Mexico and China) and made her way back to Japan to complete the circle. Now she is too old, with kidney and thyroid problems, to travel to NZ so she stays with Ken's best friend in Japan. She is the queen of the house with 9 subordinate cats!