When:
February 13, 2019 @ 6:30 pm – 7:30 pm
2019-02-13T18:30:00+13:00
2019-02-13T19:30:00+13:00
Where:
Neko Ngeru Cat Adoption Cafe
291 Jackson St
Petone
Lower Hutt 5012 ニュージーランド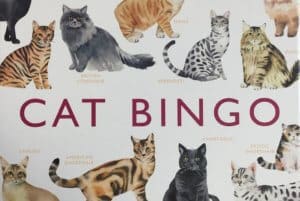 Do you know your California Spangled from your Chinchilla Persian? Your Birman from your Bombay? Your Manx from your Maine Coon? You will after playing CAT BINGO! Join other cat lovers for an hour of fun at the Neko Ngeru Cat Adoption Cafe in Petone, surrounded by beautiful fur children. Cat Bingo will start just after 6:30pm. There are 12 bingo cards for 12 players. The cost for each player is $14, which covers entry to Neko Ngeru plus a little bit extra for bingo PRIZES.
Please go to Neko Ngeru's website to book your place: https://nekongeru.nz/bookings/
• What to bring
Just bring yourselves, and extra love for the furs!
• Important to know
We need at least four people to book online with Neko Ngeru for this event to go ahead. If the event is cancelled this will be notified to all attendees by noon on the day of the event. Please understand that events at Neko Ngeru have to be worthwhile for the fur children's guardians – so tell your friends and share details of this event on social media. Thanks!